Leadoon hinnoittelu
Investointi kohti entistä parempia tuloksia!
Leadoo Essentials
£699 /per kk
Pienemmille yrityksille, jotka haluavat saada lisää myyntiä verkkosivujen kautta, sekä kartuttaa ymmärrystä verkkosivuvierailijoistaan.
Conversion Kit
Rajaton määrä konversiotyökaluja
3 Live Chat-agenttia
Conversion Insights
Visitor tracking
Conversation insights
Live Chat insights
Bot insights
Company Identification
Conversion Experts
4 optimointia vuodessa
Perusintegraatiot
Leadoo Pro
£999 /per kk
Yrityksille, jotka haluavat merkittävästi parantaa tuloksiaan, ja joilla on digitaalisen markkinoinnin fokus vahvasti konversioissa.
Conversion Kit
Rajaton määrä konversiotyökaluja
10 Live Chat-agenttia
Kalenteri-integraatio(5 kalenteria)
BannerBot
Conversion Insights
Visitor tracking
Conversation analytics
Live Chat insights
Bot insights
Source insights
Journey insights
Campaign insights
Company identification
Conversion Experts
8 optimintia vuodessa
Edistyneet integraatiot
Leadoo Custom
£2499 /starting price per kk
Isoille yrityksille, joilla on useita eri liiketoiminta-alueita, sekä tarve räätälöidyille ratkaisuille.
Räätälöity Conversion Kit-kokonaisuus
Räätälöity Conversion Insights -kokonaisuus
Räätälöidyt optimoinnit
Advanced integrations
Lisäkonsultaatiota
Räätälöity määrä kalentereita
Räätälöity määrä domaineja
Leadoo Sales
£199 /month incl. 3 seats (+£39/m per add. seat)
Leadoo Personaliser
Custom pricing
All this and the service too!
We're not going to sell you the platform and vanish. We're here to help you every step of the way to ensure you get the maximum results from your Leadoo platform📈
We define our success by the success of our customers and this is why we include the service into all the packages we offer. We want you to be able to focus on your key expertise while your Leadoo tools bring in the results! And how does this work, working with us?
We'll go through your needs, plan the solution and agree on a go live date.
2
Delivery
of conversion plan
We'll deliver our plan and wait for your comments and any adjustment requests.
3
Plan & tools acceptance
& platform training (1hr)
We'll make sure the solution fits the plan made during kick-off meeting. Teaching you how to navigate the platform.
4
Integrations and testing
We'll create the needed integrations and check that leads are coming to your CRM / MA correctly.
We embed tools and tracking scripts on your site OR send codes and instructions to you.
6
Customer Success
takes over
Our Customer Success Manager books the first check-up call to go through results and improve your conversion performance.
Success stories
Laadukkaampia liidejä ja parempaa asiakaspalvelua – Technopoliksen tarina
Haastattelimme Technopoliksen projektipäällikkö Minna Käenniemeä sekä Leadoo Marketing Technologiesin Customer Success Manager Madeleine Jalavaa. Technopolis…
Lue lisää
Väriset Oy korjasi konversioprosenttinsa uuteen uskoon
Tällä kertaa haastattelimme Väriset Oy:n toimitusjohtaja Konsta Peltokorpea ja viestintäpäällikkö Laura Keski-Kuhaa. Väriset Oy on…
Lue lisää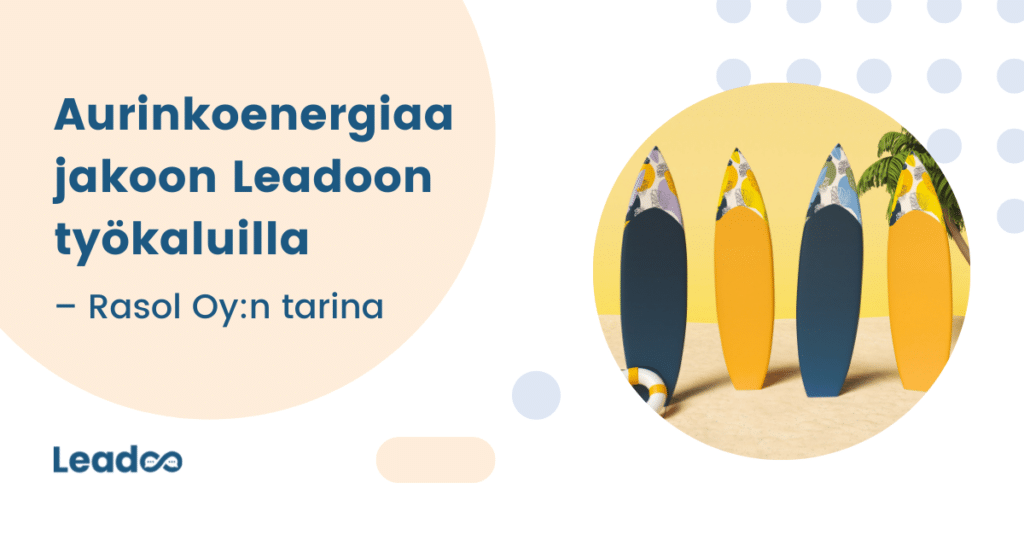 Aurinkoenergiaa jakoon Leadoon työkalujen avulla
Tällä kertaa keskustelimme Rasol Oy:n Tomi Roukalan kanssa Rasol Oy tarjoaa kustannustehokkaita aurinkosähköjärjestelmiä, sähköauton latausasemia…
Lue lisää